Hawaii Vacation - 2007
25-26 August 2007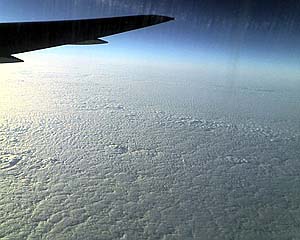 Day 0.5 (8/25)
Matthew was going to take his annual summer trip to spend a week with his grandparents and cousins, so L and I tried to think of something that we could do, since both of us would be kid-less for the week, and of course our decision came down to another visit to the islands. We flew out of LAX at 5:30pm on Saturday evening. We took Delta Airlines this time and it was perhaps one of the easiest times through the airport that I've had. Nothing like last year when we got stuck in Hawaii in the Hawaiian Airlines check-in counter with a dozen other flights leaving at the same time. Our plane late arriving from Atlanta, so we were just a bit late in leaving Los Angeles. The flight was pretty uneventful (except that I lost almost every game of Quiddler against L on the plane!)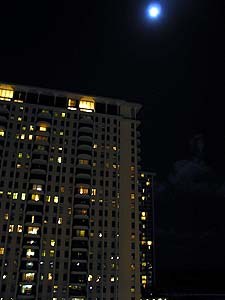 We arrived at HNL at about 8:30, And it was about 9:00 by the time we got our luggage and rental car. We were hoping to have a chance to go to one of the local obons on this Saturday night, but by then it was getting too late. But we were both hungry (the meal on the plane wasn't very good) so we stopped at Zippy's for saimin and chili rice on the way to our hotel. Man, that really hit the spot! We also got some pastries from Napoleon's bakery inside of Zippy's. We got their version of apple turnover and coconut turnover (they called them "Napples") and a peanut butter and jelly butter roll, which was the flavor of the month. After being thoroughly satisfied at Zippy's, we headed on to our hotel. This time we stayed at the Ilikai since I got a pretty good deal there (even after the $25 a day valet parking highway-robbery fee). Even though the view wasn't ideal, our room was very nice, VERY roomy and much quieter than I would have thought with the construction going on outside.
| | |
| --- | --- |
| View from our window of the new hotel... | ...going up next door |
| The lagoon was all drained, and under renovation | There was an ocean view from our room though |


Day 1 (8/26)
For breakfast we ate our pastries we got at Napoleon's and then picked up L's friends (who were visiting Oahu at the same time that we were there) and drove to the north shore for the day. The weather was surprisingly pleasant for late August with not too much humidity, although there was definitely the threat of rain in the air. We thought about stopping at Matsumoto's for shave ice, but instead we decided to get it at Aoki's (the less famous, but just as good competitor, just a few doors down) instead, with the thought that we'd compare it to Matsumoto's on our way back. We tried to get ourselves some bento lunches to take to the beach from North Shore Bento and Okazuya but the people inside didn't open the place (sign said help wanted) so we got L&L instead. We drove to Three tables beach(?), just past Waimea falls, and found parking at a neighboring church (for $5 it was a great deal and no hassle).
| | |
| --- | --- |
| Aoki's Shave Ice | Enjoying my Sunset Special -Lilikoi/Banana/Mango! |
| Three Tables | L and S snorkeling |
Everyone but me snorkeled (I forgot everything, including my swim trunks). Everyone had a good time, and I just relaxed on the beach and enjoyed the peacefulness of not having to worry about Matthew (except for the loud lady behind me who was non-stop blabbing on her cell phone to her friends about how she swam with the dolphins, etc., etc.) until the rains came and we had to leave in a downpour. We tried to stop an Matsumoto's for our second shave ice of the day but there was a line out the door so we drove back to Honolulu and got shave ice at Waiola's instead (the bakery looks like it's now defunct at the Kapahulu location.). We dropped off L's friends at their hotel and went shopping for my swim trunks. We thought about going to Tsukiji Fish Market restaurant, but we weren't in the mood for a fancy, pricey dinner and ended up eating at Ruby Tuesday's (which was actually quite good. I know, it's not Hawaiian, but we don't have that restaurant in our area!) at the Ala Moana mall. I had the mini burgers and salad bar and L had the crabcake burger. Both were very tasty.